Climbing Staff

Adam Pessl General Manager
Street Cred: 18 years working in the climbing gym industry
Climbing Experience: Took my first climbing class @ Vertical Club on Elliot Ave. in 1987. I was 12 years old. Began spending most weekends @ Index shortly thereafter. Graduated from Index to Yosemite. Climbed El Cap in 1995. Discovered bouldering shortly there after and realized it was much less work than climbing big walls. Spent many days bouldering in Leavenworth, and then discovered my desk in the office at Vertical World. The rest is history.
Favorite Climbing Area: Seneca Rocks West Virginia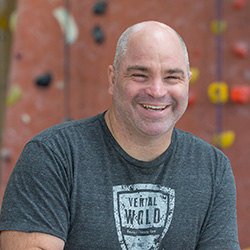 .KJ Maxwell Gym Manager
.

Maria Monaco Gym Assistant Manager
Street Cred: I have a BA in Business/Marketing, 3 kids, 3 dogs, 1 gecko, a mouse named Amy Winemouse….and I love to climb! Climbing Experience: I've always loved hiking but discovered climbing at a birthday party in… 2002? I was hooked after my first try. Since then I've climbed all around Washington and Oregon. Recently, I completed Mt Whitney at 14,508ft in a day.
Favorite Climbing Area: Smith Rock is my fave for all around great climbing and amazing beauty, Mt Erie is awesome for being close to home, great views and fun climbs, Mazama is the farthest I'll go for a day of climbing and Index is still my biggest challenge.
.

Anique Johnson Director of Programs
Street Cred: A degree in Outdoor Recreation Management from WWU and have my CWI (Climbing Wall Instructor) Certification. Climbing Experience: Worked for Vertical World since December 2007.
Favorite Climbing Area: Anywhere warm!