Climbing Staff

KJ Maxwell Gym Manager
I have 2 dogs and 2 kids.
I rode my bike across the United States.
I was born in the UK.
Besides climbing, I like mountain biking and running…sometimes.
I love cookies.

Maria Monaco Gym Assistant Manager
I have three amazing grown-up kids.
I have a 3 legged dog who loves to hike and run with me.
Besides climbing, I like to mountain bike, kayak, hike, and just be outside.
I'm originally from Hollywood, CA.
My first language was Portuguese.
Anique Johnson Program Coordinator
I have two mini Aussies, Hatley Rue and Willa Bea.
I am an avid participant in navigation and running races.
Bend is my second home and where I would love to retire.
I ❤ books!
I've visited 27 countries.
Stella Moll-Nevins Membership Coordinator
I live on Whidbey Island.
I love talking to people about gardening, especially vegetable gardening.
My husband and I are raising a son, a dog, 3 geese, and 10 chickens.
It's been a couple years since I have been in good climbing shape. I'm working on it. Don't judge me.
I love hearing dorky jokes. Please tell me some!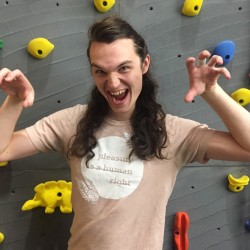 Cameron Dawson Front Desk
I wrote and directed a play that has over 2 million views on YouTube.
I have always lived in Mukilteo, WA.
I can navigate Japanese Gulch blindfolded (As long as I'm barefooted).
I am the director of a nonprofit.
I am a Hedonist Philosopher.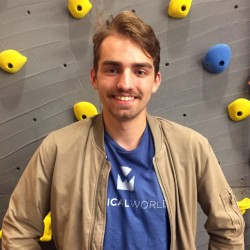 Reed Bishop Front Desk
I have too many fish tanks.
I've hiked to Everest Base Camp.
I've lived in a Buddhist temple for two weeks.
I paint miniatures in my free time.
I've driven from the East Coast to the West Coast by myself in a week (without a cat).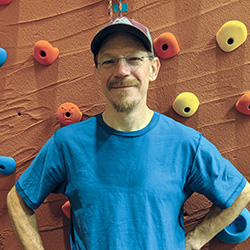 Devin Bishop Head Instructor
I majored in Electronic Music in college, I played piano for 35 years.
I have two grandsons — hoping to train them up to be my rope guns someday!
I've worked for VW in several capacities and locations since 2006.
I've summited Denali twice; Rainier over 80 times, which is way too many…
I like to climb cracks of all sizes — no surprise my favorite place on earth is Yosemite Valley.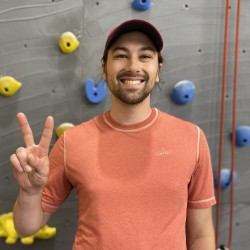 Ian Borczon Front Desk
1. Born and raised in Pennsylvania.
2. Hiked the entire Appalachian Trail and ~900 miles of the Pacific Crest Trail.
3. Driven across the country 6x since 2019.
4. Used to be a high school rowing coach.
5. I enjoy sleeping on the ground and walking long distances.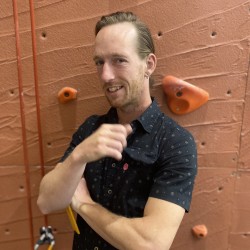 Evan McGarrah Front Desk
1. Used to live on a sailboat.
2. Builds #vanlife conversion vans for fun.
3. Can juggle and ride a unicycle (just not at the same time).
4. Favorite climbing destination is Red Rocks Nevada.
5. Is definitely not deathly afraid of ducks.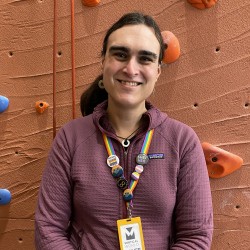 Rho Cairn Front Desk
1. Trans AF.
2. I studied mathematics for many years – including knot theory. Formally, all of our rock climbing knots are tangles, not knots. Also, I'll gladly infodump about infinity (for a finite length of time).
3. I maintain a spreadsheet of all my backpacking and related gear, how much each item weighs, and categorized along several dimensions. I should just make an app for this.
4. I believe that peanut butter and chocolate are the sole reagents for a spell that produces the energy force for all life on this planet.
5. I care a lot about my ND community, and want VW to be a welcoming and accommodating space for disabled folks.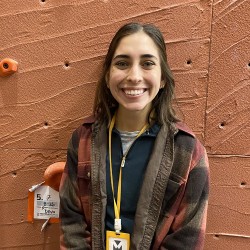 Vayle Barela Front Desk
1. I've restored and lived in a 1984 Westfalia.
2. I love to surf and ski as much as my free time allows me.
3. My dog Basil is my other half.
4. I burp a lot more than the average person.
5. Doughnuts are my favorite food.