Climbing Staff

KJ Maxwell Gym Manager
1. I have 2 dogs and 2 kids.
2. I rode my bike across the United States.
3. I was born in the UK.
4. Besides climbing, I like mountain biking and running…sometimes.
5. I love cookies.
Contact KJ


Maria Monaco Assistant Gym Manager
1. I have three amazing grown-up kids.
2. I have a 3 legged dog who loves to hike and run with me.
3. Besides climbing, I like to mountain bike, kayak, hike, and just be outside.
4. I'm originally from Hollywood, CA.
5. My first language was Portuguese.
Contact Maria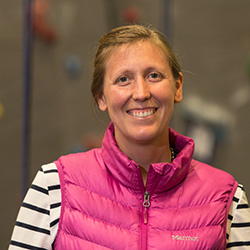 Anique Johnson Program Coordinator
1. I have two mini Aussies, Hatley Rue and Willa Bea.
2. I am an avid participant in navigation and running races.
3. Bend is my second home and where I would love to retire.
4. I ❤ books!
5. I've visited 27 countries.
Contact Anique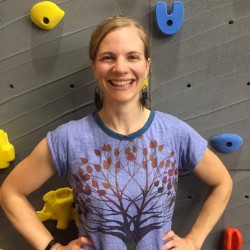 Stella Moll-Nevins Membership Coordinator
1. I live on Whidbey Island.
2. I love talking to people about gardening, especially vegetable gardening.
3. My husband and I are raising a son, a dog, 3 geese, and 10 chickens.
4. It's been a couple years since I have been in good climbing shape. I'm working on it. Don't judge me.
5. I love hearing dorky jokes. Please tell me some!
Contact Stella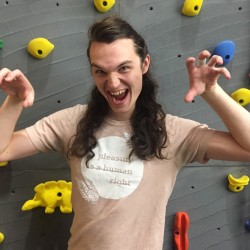 Cameron Dawson Front Desk
1. I wrote and directed a play that has over 2 million views on YouTube.
2. I have always lived in Mukilteo, WA.
3. I can navigate Japanese Gulch blindfolded (As long as I'm barefooted).
4. I am the director of a nonprofit.
5. I am a Hedonist Philosopher.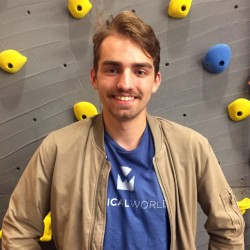 Reed Bishop Front Desk
1. I have too many fish tanks.
2. I've hiked to Everest Base Camp.
3. I've lived in a Buddhist temple for two weeks.
4. I paint miniatures in my free time.
5. I've driven from the East Coast to the West Coast by myself in a week (without a cat).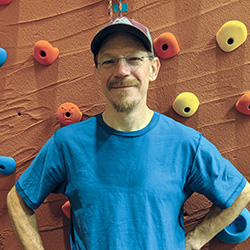 Devin Bishop Head Instructor
1. I majored in Electronic Music in college, I played piano for 35 years.
2. I have two grandsons — hoping to train them up to be my rope guns someday!
3. I've worked for VW in several capacities and locations since 2006.
4. I've summited Denali twice; Rainier over 80 times, which is way too many…
5. I like to climb cracks of all sizes — no surprise my favorite place on earth is Yosemite Valley.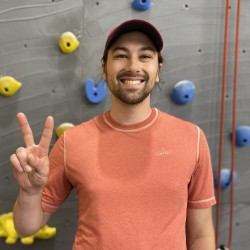 Ian Borczon Front Desk
1. Born and raised in Pennsylvania.
2. Hiked the entire Appalachian Trail and ~900 miles of the Pacific Crest Trail.
3. Driven across the country 6x since 2019.
4. Used to be a high school rowing coach.
5. I enjoy sleeping on the ground and walking long distances.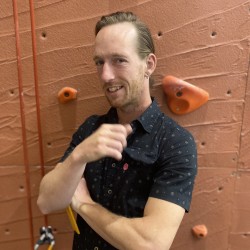 Evan McGarrah Front Desk
1. Used to live on a sailboat.
2. Builds #vanlife conversion vans for fun.
3. Can juggle and ride a unicycle (just not at the same time).
4. Favorite climbing destination is Red Rocks Nevada.
5. Is definitely not deathly afraid of ducks.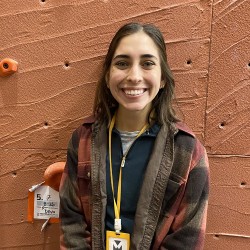 Vayle Barela Front Desk
1. I've restored and lived in a 1984 Westfalia.
2. I love to surf and ski as much as my free time allows me.
3. My dog Basil is my other half.
4. I burp a lot more than the average person.
5. Doughnuts are my favorite food.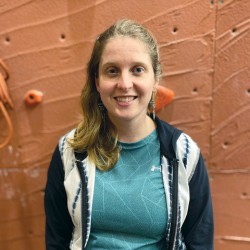 Kari Jeroue Front Desk/Youth Programs
1. I have a Bachelors degree in accounting.
2. I turned 13 on Friday the 13th.
3. I've traveled to Australia, Japan, Spain, Canada, Costa Rica, Panama, Hawaii, Alaska, and all over the states.
4. My first backpack trip I hiked the Wonderland Trail around Mount Rainier.
5. My partner and I started and own a tree care company.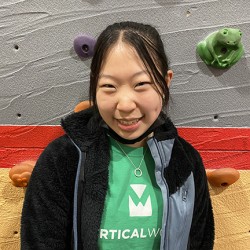 Chloe Kim Youth Programs
1. I lived in Korea for about 7 years.
2. I have a slight fear of heights which is really great for climbing!
3. I tore a ligament in my ankle while walking.
4. I love to paint, draw, and do other types of art.
5. I eat way too many bolt gummies whenever I climb at Vertical World.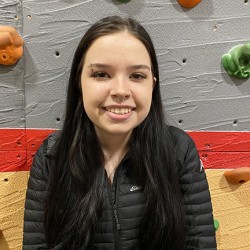 Chloe Coggins Youth Programs
1. I am the youngest of six siblings.
2. I lived in Hawaii.
3. I love hiking and paddle boarding.
4. I used to work with equine therapy horses.
5. My biggest fear is of caterpillars and worms.

Paul LeDuff Youth Programs
1. I was born and raised in California.
2. I have one cat and a dog, Miss Kitty and Obie.
3. On my free time I enjoy woodworking.
4. I played in an international soccer tournament in the Netherlands.
5. I love making homemade Pizzas.

Anika Ghosh Youth Programs
1. I took trapeze classes.
2. I've traveled to China, Germany, and India.
3. I do regular research on the Puget Sound.
4. I love crafting and have my own Etsy shop.
5. I bake in my free time!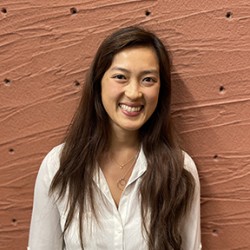 Christine Luu Youth Programs
1. Hobbies I picked up during the pandemic are climbing, skiing, SCUBA diving, and baking alcoholic cakes.
2. I moved to Seattle without ever visiting and I never want to leave now!
3. I got over my fear of heights by going sky diving.
4. I am able to speak three other languages.
5. My first time outdoor sport climbing was at Smith Rock and my first multi-pitch and ice climbing was at Rocky Mountain National Park.

Jonathan Rippel Adult and Youth Programs
1. I am a Texas A&M graduate, WHOOP!
2. Bouldering is my favorite form of climbing, Hueco Tanks is my favorite place to climb.
3. I don't have any experience with winter sports but love spending time kayaking in the summer.
4. Woodworking is my favorite pastime.
5. Pineapple DOES belong on pizza.